An Introduction to International Education at Hiroo Gakuen
International Education at Hiroo Gakuen
The follow up system is intended as a follow up to education overseas for returnees.
We have created a relaxed educational environment where international students (returnees and students of foreign nationality) can continue their studies and maximize their ability and scholarship through thorough personal guidance.
In particular, English lessons with native English speaking teachers offer guidance to SP students.
Graduates have successfully gone on to study at renowned public and private universities. And even though they are 'international students' there is no need to believe they cannot go on to enter medical or science faculties.
Through our strategic guidance our students can go on to the universities they hope to enter.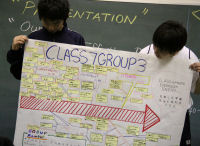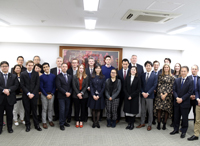 SUPER ENGLISH LANGUAGE HIGH SCHOOL (SELHI)
Since 2006, the Ministry of Education, Culture, Sports, Science and Technology had designated Hiroo Gakuen as a Super English Language High School for three years(〜 2008).
Shown to be a school which positively nurtures the development of 'Japanese who can use English', we aim to give all students an interest in English through a systematic improvement in the effectiveness of our lessons.
* This photograph shows Hiroo Gakuen students (pictured on the left) with various world leaders at the 2007 Germany Summit.