Designated as the first school in Japan to accept returnees, and for three years from 2006, named as a SELHI (Super English Language High School), Hiroo Gakuen continues to meet the needs of international students and put into practice the results of continued educational research.

■ Advanced Group
The Advanced Group is mainly for returnees or others who already have a high level of English. The group is designed for students who wish to enter prestigious universities, either overseas or in Japan. All students must demonstrate a high level of English ability and will be helped to reach the Eiken Grade One level.
■ Standard Group
The Standard Group is students who wish to begin studying English so that in future they can live, work and study in an international environment. There is no test of English ability before they join the group and over the 6 years of junior and senior high school they will be taught English. The course is designed for students who wish to enter prestigious universities, either overseas or in Japan.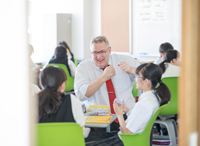 Nurturing The Best International People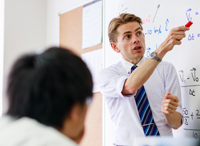 The Strengths of Our Approach to Education
Hiroo Gakuen International Course is unique in that students receive a first rate international education, but unlike other international schools, graduate from a certified Japanese High School - an 'Ichijou' School. The main benefits to students being that they meet the Japanese university entrance requirements established by the Ministry of Education, Culture, Sports, Science and Technology, can be recommended to enter universities, and find taking entrance examinations easier.
The Advantages of the International Course
*We have prepared the highest level educational programs to help each student achieve the highest possible goals.
*We have created an environment where foreign students can experience and learn about Japanese culture.
*We have an international environment where returnees study and mix with students of other nationalities.
*We limit the number of students in our classes to ensure that each child is given the individual attention he or she needs.
*Our students are culturally diverse and so develop an ability to respond well to globalization.
*Being an 'Ichijou' School, and thus recognized under Japanese Education Law, gives our students an advantage when applying to prestigious universities in Japan.
* We have gathered together a team of highly-qualified, experienced teachers.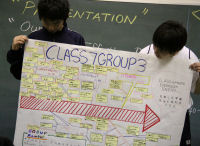 Frequency Asked Questions for students thinking about joining the International Course.
Please be aware of the following points if you are thinking of having your child join the International Course of Hiroo Gakuen.

Q: Where are the foreign teachers from?

A: We employ foreign teachers from a diverse range of countries. These include the United States of America, the United Kingdom, Australia, and New Zealand. All of our teachers are highly qualified and have a great deal of experience.

Q: Can the students enrolled in the Domestic department take part in lessons in English conducted in the International department?

A: It is possible. Since 2010 students enrolled in the domestic department can take part in lessons subject to passing a written examination and an interview with a foreign teacher. These students are known as SP (Special Program) students.

Q: Can students enrolled in the Domestic department change to the International department?

A: Generally speaking, students can only change from the Domestic to International, or vice-versa, after they graduate from junior high and before they enter senior high.

Q: Are all International Course classes conducted in English?

A: Basically, all Advanced Group classes are conducted in English. However, Japanese Language classes, 'Kokugo' and Social Science classes, 'Shakai' are given in Japanese. All classes in which International Course students take part with the Domestic department students, usually P.E. and Home Economics, are conducted mainly in Japanese. Please be aware students are expected to purchase both English and Japanese text books and study materials authorized by the Ministry of Education, Culture, Sports, Science and Technology. The latter are provided free for junior high school students.
Over half of lessons given to Standard Group students are conducted in Japanese, but they are also given a large number of special classes to improve their English ability.

Q: What special strategies do you have to help students who want to study at overseas universities?

A: Both SAT and TOEFL preparation courses are provided to high school students. Hiroo Gakuen has a special relationship with Mount Allison University in Canada. We are also working on creating ties with other recommended universities.

Q: Are graduation diplomas from Hiroo Gakuen International Department accepted by Japanese Universities?

A: Yes. Diplomas from our International Department are perfectly valid for students taking Japanese university entrance exams. As an 'Ichijou' school, we present Japanese National Graduation Certificates to both junior and senior high students upon graduating.

Q: Are the International department rules the same as those in the Domestic department?

A: Yes. The same rules apply.

Q: Do International Course students use computers?

A: Yes, all students are asked to buy a MacBook Pro(priced at around 100,000 yen) when they enter the school.

Q: Can students study abroad once they have entered high school?

A: If the school where the students wishes to attend is a recognized educational institution, and if the motivation behind the study is of proven educational use to the individual student, then students may study overseas for one academic year. However, there are restrictions on students re-entering school before September of their third year. The grade which the student enters will be decided by examination after they return to school.

Q: Is there a system for short study abroad programs?

A: During the summer break students can take part in study abroad programs for up to 20 days. Any students, in either junior or senior high can take advantage of this system.

Q: What happens in zero period and after school?

A: During zero period (8:25 to 8:40 am) the Advanced Group prepares for the STEP tests of English and Chinese characters. The Standard Group uses the time to study English. Lots of students use the time after school to work on their weaker subjects.

Q: What courses do the present International department students intend to follow?

A: Some students intend to enter Japanese universities, some intend to study at overseas universities. At present, the International Course senior high 3rd grade students are starting to make firm plans for their studies after graduation. Universities popular with returnees include Waseda, Keio, Sophia, and Tokyo University of Science.

Q: Which countries have the present international course students lived in? How long did they spend overseas?

A: In order, North America, East Asia, other Asian countries and Europe. Over 50% of the students were overseas for a period of six to ten years.

Q: What kind of interaction is there between the domestic and international sides of the the school?

A: As mentioned above, the students have P.E. together. As well as being in clubs together, they also work side by side on other school events. (These include the sports festival, Schole study trips, the school 'Keyaki' festival and the music festival).
*Accurate as of July, 2012. (Please check for changes.)